A Leader in International Trade Law
Global Trade Law Specialists
Successfully meeting the complex challenges of global trade compliance requires a smart strategy. For leading companies worldwide, that strategy is a partnership with Braumiller Law Group. But these industry leaders know they are getting much more than proven legal expertise, solid international presence, and exceptional client service.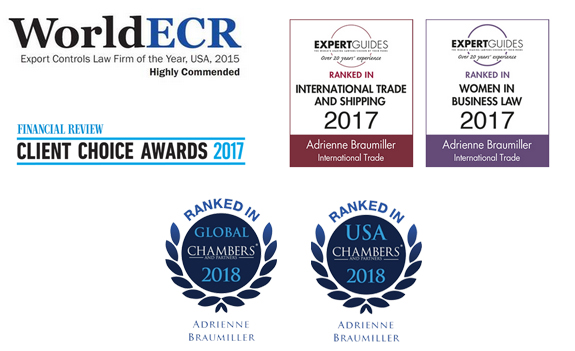 Recognized by Chamers both U.S.A. and Global 2015-2018
Why Braumiller Law Group?
Our international trade attorneys and customs attorneys offer a unique set of skills and experience to support companies involved in import and export:
We provide a consultative, customized approach to all clients.
We have extensive experience working with the U.S. Department of State, U.S. Customs and Border Protection, U.S. Department of Commerce, and many other government agencies.
We provide multilingual service, with fluency in several languages.
We have versatile capabilities to support your company with import/export audits, compliance procedures, trade analysis, penalty mitigation, litigation and more.
We have an amazing reputation for professionalism, integrity, quality and leadership.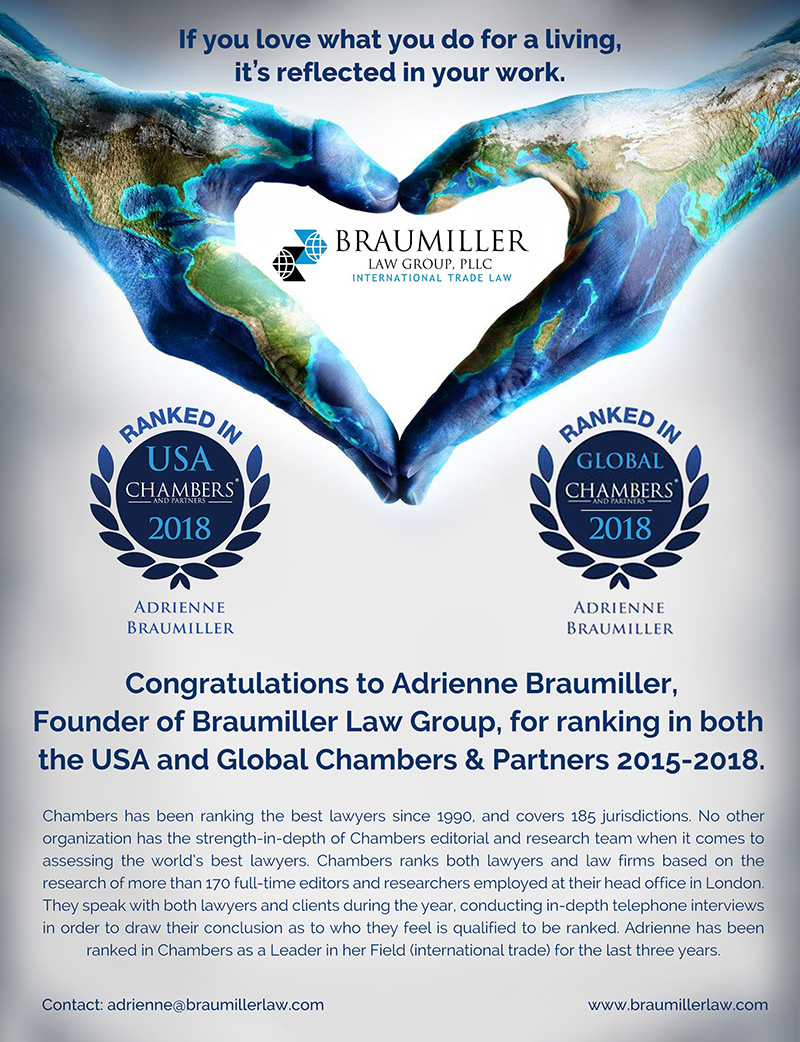 Chambers has been ranking the best lawyers since 1990, and covers 185 jurisdictions. No other organization has the strength-in-depth of Chambers editorial and research team when it comes to assessing the world's best lawyers.
Chambers ranks both lawyers and law firms based on the research of more than 170 full-time editors and researchers employed at their head office in London. They speak with both lawyers and clients during the year, conducting in-depth telephone interviews in order to draw their conclusion as to who they feel is qualified to be ranked.
Adrienne has been ranked in Chambers as a Leader in her Field (international trade) for the last three years.  Read her full bio here.
Your Partner in International Trade Law
A partnership with Braumiller Law Group gives them the power to look at global trade beyond compliance problem-solving and into the realm of business-building. Improved market access. Minimized tariffs. Accelerated sales cycles. Working with the highly experienced ITAR attorneys and trade advisors at Braumiller Consulting Group can provide a distinct advantage with bottom-line impact. Definitely a smart strategy.

We offer legal and consulting services in the following areas:
Global Trade Law is Like a Day at the Beach

Yes, it may come with a little stress at times. No problem, just go to the beach……in the comfort of your office.
Check out our video, above. A calming, soothing, and relaxing piece complete with beach scenes, splashing waves, palm trees swaying in a warm breeze, very mellow spa music (no narrator needed), and of course, a little information about our companies.
Apply some sun tan lotion to your hands for the full effect.