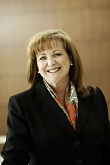 Lauri McKinney
Office Administrator
Dallas
Lauri McKinney has worked in the legal profession for over 17 years.  During this time, she has gained extensive experience in the areas of Aviation, Corporate Finance, Patent and Trademark, Litigation, Real Estate, Construction, and International Trade Law.  This diversity and depth of knowledge has proven to be a tremendous asset to our firm. Her ability to relate to client concerns is unparalleled.
In 2010, Ms. McKinney joined Braumiller Law Group, PLLC as an Executive Legal Secretary. She was primarily responsible for providing support to Partner, Adrienne Braumiller, two Associate Attorneys, as well as the CFO/COO.  Her responsibilities include filings with the International Trade Commission, US Department of Commerce, and US Customs and Border Protection.
Both her law firm experience and her organizational and management skills helped Ms. McKinney transition to the Office Administrator position in 2013.  She is responsible for the firm's day-to-day operations, as well as interfacing with all the firm's vendors and clients on a regular basis. Ms. McKinney is also responsible for the billing and collections for the firm.  She truly is an invaluable asset to the firm.